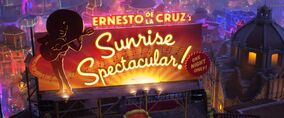 The Sunrise Spectacular is a concert which Ernesto de la Cruz held every year in the Land of the Dead.
History
In the Land of the Dead, Enresto de la Cruz would hold the Sunrise Spectacular every year on the Day of the Dead at sunrise, hence the name. De la Cruz would entertain a large crowd of people in a large stadium.
When Hector sees that the Corrections Officer is a fan of Ernesto, Hector promises the officer that if he is allowed to cross the bridge, he could get the officer front row seats at the Sunrise Spectacular, or let him meet de la Cruz at backstage.
While he was walking with Hector and Dante, Miguel saw a billboard advertising the Spectacular. Hector explained that Ernesto threw the concert every year. The trio arrived at a warehouse where Ernesto (according to Hector) was rehearsing for the Sunrise Spectacular. Miguel and Dante ran into the artist Frida Kahlo. Frida gave Miguel a preview of the performance she would be holding at the Spectacular. Miguel gave Frida some suggestions to make her performance better.
After Miguel enountered Ernesto at his mansion, the latter considered inviting Miguel to the Sunrise Spectacular as his guest of honor. Unfortunately, Miguel had to return to the Land of the Living before sunrise.
Gallery
Community content is available under
CC-BY-SA
unless otherwise noted.