to add to the trivia
Can we add in the trivia that Sarge´s favorite program is "The Mel Dorado show" ? as he says it in the movie.
El ruterito 18:02, July 20, 2011 (UTC)
I don't remember Sarge saying that, but if you're being honest, then sure, add it in there. --Aaron 18:20, July 20, 2011 (UTC)

Sarge is my favorite character
-- Chodo_Kuruma_Chan... the car waifu
Sarge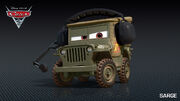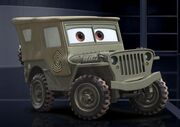 Sarge is a brave car who will do any thing for a friend. He put in filmores organic fuel so Lighting would be safe. Sarge and Filmore fight a lot but this just showa how much they care about each other. Sarge fought in the war and therefore he is a strong brave car. When we first meet Sarge he seemed like a strong car and maybe was a little to strong. But tgats not the case Sarge is a strong car but he is also so much more. He is a kind and caring car whop will to any thing for his country adn his friends. Sarge always has and always will gp above and way beyond the call of duty when something importent needs to be done.
Toadsgirl 22:14, November 19, 2011 (UTC)
Community content is available under
CC-BY-SA
unless otherwise noted.