The Good Dinosaur will be released on November 27, 2013. It will be directed by Bob Peterson and co-directed by Peter Sohn.[1] Enrico Casarosa, director of La Luna, will be head of story.[2]
Plot
Development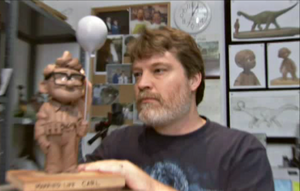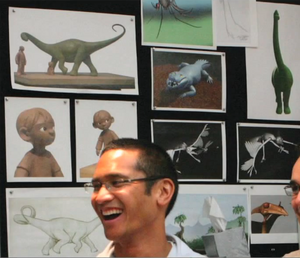 It is assumed that the Dinosaur project started sometime in 2009.[3][4] When a promotional video for Up called Up: B-roll 1 was released, many fans noticed 4 stand-out images in the background of sculptor Greg Dykstra's office. The top image is a clay sculpture of an herbivorous dinosaur with a person standing next to it. Below it are two more images of clay sculptures of a boy. The fourth image, not clearly visible, is a drawing of the same or another herbivorous dinosaur.[3][4]
The film's current release date of November 27, 2013 was first announced in June 2011.[5] Not long after, the plot, director & co-director, producer, and other small details were announced at the D23 Expo on August 20, 2011.[6] Bob Peterson and John Walker humorously titled the film The Untitled Pixar Movie About Dinosaurs and even created a logo for the mock title.[6]On April 24th, 2012, Pixar announced that it would be entitled The Good Dinosuar.
Bumped Off Nov 2013 Release Date
On December 22, 2011, Disney shared upcoming release dates for its films. A mysterious film titled Frozen rested on the date of November 27, 2013, which led many to believe that The Untitled Pixar Movie About Dinosaurs, originally scheduled for release on that date, now had the title of Frozen. However, Peter Sciretta of /Film confirmed with Disney that Frozen was not a Pixar film. Further, Bleeding Cool received tips that Frozen is actually an adaptation of the long-dormant Snow Queen Disney animated film.[7] Later, Pixar announced that it would be released on May 30th, 2014.[1]</ref>
Gallery
References
↑ Cite error: Invalid <ref> tag; no text was provided for refs named blog1