"Why did we drive all the way across town for the 'Happy Platter'?"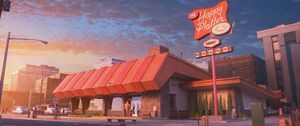 The Happy Platter is a family restaurant featured in Incredibles 2. It is owned by the Rydinger family.
Incredibles 2
Violet: "This platter doesn't look all that happy, to me. It looks bored."
Dash: "Ha! The Bored Platter!"
Bob: "I thought Vi would want a change of pace from drive-in food."
Violet: "I like drive-in food."
Dash: "Does this mean, vegetables?"
Bob: "A balanced diet needs vegetables, kiddo. Get used to it."
―Bob, Violet, and Dash, as they dine at The Happy Platter
Bob Parr
contacts
Rick Dicker
to ask what Dicker knows about
Tony
as Dicker had earlier wiped Tony's memories of Bob's daughter
Violet
, resulting in Violet throwing a tantrum and angrily renouncing superheroes. Dicker tells Bob that Tony works part-time at The Happy Platter. Hoping to reintroduce Violet to Tony, Bob takes her, along with his sons
Dash
and
Jack-Jack
 to dine at the restaurant and sit at a booth near the Philodendron. However, when Violet notices Tony as their waiter, she embarrasses herself and walks away from the booth, possibly to the restroom.
Community content is available under
CC-BY-SA
unless otherwise noted.