The LEGO Group is a family-owned company based in Billund, Denmark, and best known for the manufacture of the building toys known as LEGO. The company was founded in 1932 by Ole Kirk Christiansen. The word LEGO is derived from the Danish words "leg godt" which in Danish means "play well". In Italian the words mean "I tie together" and in Latin "I put together".
LEGO Toy Story
From 2009-2010, The LEGO Group released 15 Toy Story-themed LEGO sets, as well as 4 Duplo sets, to promote the theatrical release of Toy Story 3.
LEGO Cars 2
From 2011-2012, The LEGO Group has released 22 Cars 2-themed LEGO sets, as well as 10 Duplo sets.
LEGO WALL•E
On February 5, 2015, LEGO Ideas announced that they would be producing a model of WALL•E designed by Angus MacLane.[1] LEGO Ideas is a subdivision of the LEGO Group where fans can submit models in hopes of them becoming official LEGO products.
LEGO Cars 3
In 2017, The LEGO Group released 8 Cars 3-themed sets as part of their Juniors line, as well as 3 Duplo sets based on the film.
Appearances in Pixar films
Toy Story 2
In Toy Story 2, Andy has a LEGO house. After Woody is stolen, Andy's toys use this in the recreation of the crime scene, only to have it accidentally destroyed by Rex.
Toy Story 3
In the teaser trailer for Toy Story 3, the Aliens' "Y" in Andy's toys' Toy Story 3 logo is made out of LEGO.
In the actual film, Sunnyside Daycare is full of LEGO. Various vehicles and creations lay scattered around the daycare. For the first time, LEGO minifigures are seen.
Later on in the film, the time-out chair that Lotso's gang interrogates Buzz Lightyear in is made out of Duplo bricks, another type of LEGO brick for preschoolers.
Hawaiian Vacation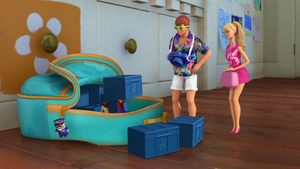 In Hawaiian Vacation, LEGO minifigures are shown taking Ken's bags out of Bonnie's backpack.
Toy Story of Terror!
In Toy Story of Terror!, one of the toys stolen by Ron the manager is a yellow bunny made out of LEGO bricks. Also, Bonnie has a LEGO box in her suitcase.
Toy Story That Time Forgot
In Toy Story That Time Forgot, when Bonnie tosses her backpack into Mason's room, the backpack lands in a pile of LEGO bricks. LEGO buildings can be seen on a table, including a small model of the Pizza Planet truck.
Trivia
Andy's LEGO house from Toy Story 2 appears on a shelf at Sunnyside, inferring that it may have been donated.
External links
References
Community content is available under
CC-BY-SA
unless otherwise noted.