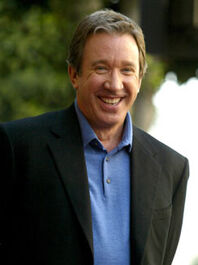 Tim Allen (born June 13, 1953) is an American actor and comedian who performed the voice of Buzz Lightyear in the Toy Story films - Toy Story, Toy Story 2, Toy Story 3 and Toy Story 4. He also reprised the role in Toy Story of Terror!, Toy Story That Time Forgot, Toy Story Toons and Buzz Lightyear of Star Command: The Adventure Begins on its video release before its TV airing as three episodes; however, in the real full-length TV series, he is replaced by Patrick Warburton.
Allen also voiced Buzz Light Car in Cars.
Trivia
What attracted Allen to the role of Buzz Lightyear was that before him, they offered the role to his biggest influence in his career, Chevy Chase, who turned it down.[1]
At one point in The Shaggy Dog, Allen's character, Dave Douglas (as a dog), also says Buzz Lightyear's catchphrase, "To Infinity and Beyond!"
At one point in The Santa Clause 2, one of Allen's characters, Toy Santa, called the real Santa, Scott Calvin (also played by Allen), "a sad, strange little man," which is a reference to what Buzz called Woody in Toy Story.
Allen starred in the films The Santa Clause, Galaxy Quest, The Shaggy Dog, and Wild Hogs.
Buzz Lightyear had made a few inderect cameos on Tim Allen's show, Home Improvement. In a blooper of an episode, Tim Taylor (played by Allen) is seen sorting through his niece's toys and picks up a Buzz Lightyear action figure. He then proceeds to argue with the toy as to who is "Buzz Lightyear." Similarly, in another episode, actor Jonathan Taylor Thomas (who played Tim's son on the show and had voiced the young version of Simba in The Lion King) was giving candy to trick-or-treaters for Halloween. Ironically, he gave more candy to the kid dressed as Simba than the one dressed as Buzz Lightyear.
He also continued to lend his voice over to Buzz Lightyear for Disneyland commercials even though Pat Fraley replaced him for the voice over role for Buzz Lightyear Astro Blasters located at Disneyland in TomorrowLand.
References
Community content is available under
CC-BY-SA
unless otherwise noted.