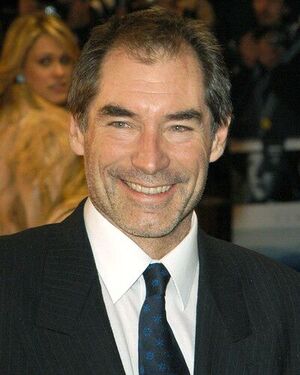 Timothy Peter Dalton (b. March 21, 1946) is a Welsh actor. He performed the voice of thespian hedgehog Mr. Pricklepants in Toy Story 3, as well as in Hawaiian Vacation and Toy Story 3: The Video Game.
Dalton was born in Colwyn Bay, North Wales to an American mother of Italian and Irish descent and an English father, who was a captain in the Special Operations Executive during World War II.
Dalton is best known for portraying Agent 007 James Bond in The Living Daylights and Licence to Kill, as well as Rhett Butler in the television miniseries Scarlett, an original sequel to Gone with the Wind, and Damien Drake in Looney Tunes: Back in Action, the character being a reference/parody of Dalton as James Bond.
Dalton is also known for roles in Shakespearean films and plays such as Romeo and Juliet and Macbeth. He currently portrays the recurring character of Alexei Volkoff in the U.S. television series Chuck.
External Links