Todd is a character in Cars.
Cars
"Todd is one of a legion of devoted Pizza Planet delivery trucks delivering fresh off the line Pizza Planet brand air filters to cars all over California. Every now and then in Todd's quest to make it to his customers as soon as possible, he stumbles upon an unavoidable detour like construction, flooded roads, or worst of all, free tickets to the race of the century at the Los Angeles International Speedway."[1]
Cars 2
Todd also makes a short cameo in Cars 2. He can be seen in the crowd at the end when Lightning McQueen is racing in the Radiator Springs Cup.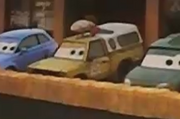 References
↑ "Cars Finder" (supplementary material on Blu Ray Disc release of Cars). 2007. Blu Ray Disc. Walt Disney Home Entertainment, 2007.