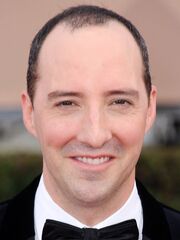 Anthony "Tony" Hale (born September 30th 1970) is an American comedian and actor. Famous for his performances in Arrested Development, Veep, and Buster Bluth, Hale performed the voice of Forky in Toy Story 4.
Selection for the role of Forky
Hale was considerably surprised that Pixar chose him for the role,[1] even questioning whether he was picked in error. However, Hale has a strong track record playing overwhelmed characters, making him an ideal pick for Pixar. Hale quickly immersed himself in the role, being almost as overwhelmed himself as Forky was portrayed as on film.[2]
Trivia
Pixar used voice clips of Hale's other acting roles, namely Arrested Development and Veep, to portray to Hale the kind of exacerbated, overwhelmed voice they wanted him to use.[3]
Hale loves that Forky is easier to create than characters such as Buzz Lightyear, so that anyone can enjoy the character.[4]
Gallery
References
Community content is available under
CC-BY-SA
unless otherwise noted.