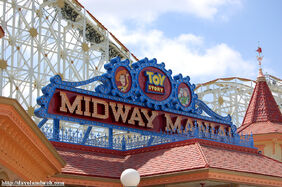 Toy Story Midway Mania! (marketed as Toy Story Mania!) is an interactive theme park attraction at Disney's Hollywood Studios and Disney's California Adventure theme parks.
Designed by Walt Disney Imagineering and inspired by the Walt Disney Company/Pixar films Toy Story, Toy Story 2 and Toy Story 3, the attraction was first unveiled during a press conference at Walt Disney World in January 2007. The Florida version officially opened on May 31, 2008 while the California version officially opened on June 17, 2008. A new version of the attraction was constructed at Tokyo DisneySea and opened July 9, 2012. Sponsors:
M&M's (2007-2015) (Walt Disney World)
Burger King (2008-2014) (Disneyland)
Sega (2012-present) (Tokyo DisneySea)
Concept
Park guests wear 3-D glasses (Carnival Games Goggles) aboard spinning vehicles that travel through virtual environments based on classic carnival midway games. Ride vehicles seat up to four in back-to-back pairs.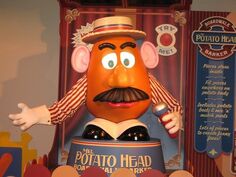 Mini-games
The attraction features five mini-games after a practice round, each of which includes at least one "Easter egg" that can trigger additional targets or gameplay changes. These games include:
Pie Throw Practice Booth (pie toss target practice game, a no points introduction)
Hamm & Eggs (egg throw game)
Rex and Trixie's Dino Darts (dart throw game)
Green Army Men Shoot Camp (baseball throw / plate breaking game)
Buzz Lightyear's Flying Tossers (ring toss game)
Woody's Rootin' Tootin' Shootin' Gallery (suction cup shooting game)
Each guest's score is recorded by an onboard display screen as points are acquired with individual toy cannons firing simulated projectiles at virtual targets. Toy Story characters including Woody, Hamm, Buzz Lightyear and Bo Peep appear during the attraction's different games.
Similar technology has been used in Disney attractions such as Pirates of the Caribbean: Battle for Buccaneer Gold at DisneyQuest and several Buzz Lightyear attraction. According to Disney, it is the first attraction created simultaneously by Walt Disney Imagineering for two theme parks.
The line at both parks features a large Mr. Potato Head Audio-Animatronics figure that interacts with guests through pre-recorded snippets of dialogue performed by comedian Don Rickles, who voiced the character in the Toy Story films. The sophisticated figure identifies people in the audience, sings and tells jokes.
Former Mini-Games
Only five mini-games can be used at a time at Toy Story Mania. The Following games have been featured as part of Toy Story Mania in the past, but have been since replaced:
Bo Peep's Baaa-loon Pop (dart throw game) Replaced May 21, 2010 with "Rex and Trixie's Dino Darts"
Community content is available under
CC-BY-SA
unless otherwise noted.