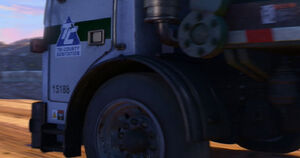 Tri-County Sanitation
is a sanitation company that owns
garbage trucks
. The logo appears on the side and on the side doors of every garbage truck in the film 
Toy Story 3
. Notable employees include
Sid Phillips
and
another garbage man
.
Toy Story 3
When Woody is trying to rescue his toy comrades, who had been put in a garbage bag by Andy and taken outside by Andy's mom (after she mistook them for trash), a garbage truck with the Tri-County Sanitation logo sticker pulls up. Sid the garbage man then gets out, listening to his headphones and happily scatting to the music, and proceeds to dispose of the trash bags left on the sidewalk, gleefully banging the trash cans and his garbage truck as well.
Later, when Lotso is trying to escape from the garbage dump, another garbage truck with the same logo sticker pulls up, and another garbage man gets out and finds Lotso next to his garbage truck's tire after he stops. He picks the bear up, claiming he has once owned a Lots-O'-Huggin'-Bear as a kid. Sticking to his love for the teddy bear (as well as his strawberry scent), he then straps Lotso to the front of his truck with a few other toys he has also collected and drives off.
Community content is available under
CC-BY-SA
unless otherwise noted.