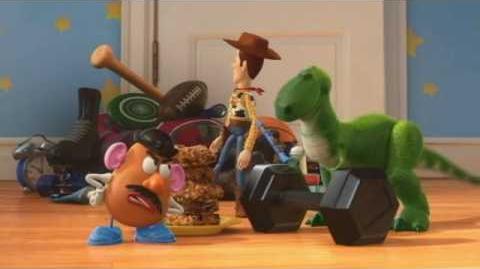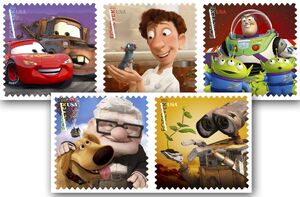 The United States Postal Service (USPS) is a government-run corporation which oversees the mail system of the United States of America. The American postal system was founded by Benjamin Franklin in 1775.
Toy Story 3 promotional TV spot
In 2010, to promote the release of Toy Story 3, Pixar created a commercial for the USPS featuring Mr. Potato Head, Rex, Woody, Hamm (as a Mail Carrier, referencing John Ratzenberger's role as Cliff Clavin, a mailman, on Cheers), and Slinky trying to resolve their problem of what to send to Andy at college because if they send all of it, it would be too heavy. However, this commercial is non-canon with the Toy Story films.
"Send a Hello Forever" stamp collection
On August 19, 2011 the USPS released 20 collectible stamps featuring Lightning McQueen & Mater, WALL•E & his plant, Carl & Dug, Buzz Lightyear & the Aliens, and Linguini & Remy as part of the "Send a Hello Forever" collection. John Lasseter joined Deputy Postmaster General Ronald A. Stroman on August 19, 2011 to officially unveil the collection at the first day of issue ceremony at the D23 Expo.[1] Art directors Terrence W. McCaffrey and William J. Gicker worked with Disney•Pixar to design the stamp art.[2] The stamps are being issued as "Forever" stamps. "Forever" stamps are always equal in value to the current First-Class Mail one-ounce rate.[2] The Postal Service will be printing 200 million stamps to meet the expected demand.[3]
References
Community content is available under
CC-BY-SA
unless otherwise noted.