The SECUR-T. Just something heavily special about those enigmatic characters makes me joyful and finally smile. I really love their strapping looks and deep sense of self-discipline. Their adorable yellow sirens for heads and the broad shoulders are my favourite qualities of theirs. I like to believe that I could see more into them than most Pixar/WALL-E fans. 
Me
I am interested in the composition and history of PIXAR. I love the Wall-E Stewards very much.
To be dead, dead honest with you, I don't love Pixar films THAT much. Sorry. I am only a minor fan only interested in very minor part(s) of a certain Pixar film. (Except for Coco, I loved everything about that film).
Whenever you have a concern of some sort, or have a way to fix the Steward page, tell me at my talk page.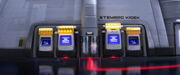 Community content is available under
CC-BY-SA
unless otherwise noted.