Look at this photo: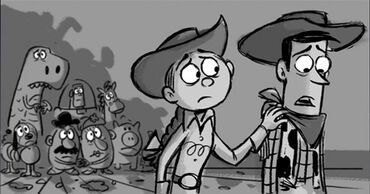 I believe that (SPOILERS) that this deleted scene from Toy Story 4. But, this may not be an entirely "deleted" scene. 
This appears to be the scene where Woody says goodbye to the rest of Bonnie's toys. 
BUT, in this verison Woody hops of the merry-go-round and walks toward the toys onyl to look back and look down sad. 
Jessie (not Buzz in this version) talks to Woody and tells him he should go with Bo Peep while the other toys look at Bunny, Ducky, Duke, Giiggle, and Bo,
(the bottom shadow figure reseblemes a fat bunny (Bunny)
(the second shadow from the bottom resembles Duke sitting on his bike)
(the top shadow resembles Bo holding her staff with Giggle on her sholder)
Also the surface the toys are standing on appears to be the RV's shade thing (i'm not good with cars).
What do you think? Could this be a alternate verison of the Goodbye scene?