Hi CarsFanatic! I have a question - I'm not sure I understand why you're creating the redirects to Cars Die-Cast Line and Cars Toons Die-Cast Line? Are you thinking you'd create them for all the different die cast cars, or only certain ones? --Jeff (talk) 02:45, 8 April 2009 (UTC)
Disambiguation Pages
Remember to fix any pages that link to the disambiguation pages. They will need redirected to the correct page. - RaptorWiki 23:45, 19 March 2009 (UTC)
New crew pages
Hi! I see you've built some new pages for some of the crew. That's great - I'd like to see more pages and details on the people behind the magic at Pixar. But I have a couple of questions. First, how are you deciding which people to create pages for? Second, where are you getting the info on them? Note that most of the credits on this wiki came from IMDB which is known to not always be accurate. I have verified the credits for WALL-E and The Incredibles (from the official press kits and DVDs), but none of the other movies.
One thing to remember, quantity doesn't always equal quality. One thing we can do here on the Pixar wiki is put more in depth information on the different animators, directors, writers, etc. If we're just putting in one line summaries of what the person does, someone could get that by just looking at the credits. I think we should first focus on some of the key creative personnel, and expand from there.
Also, there are categories for the different roles. If you have questions on them let me know. We've decided that all creative artists roles can use the Animators category, rather than trying to have many different categories. But there are categories for directors, writers, etc. Take a look at some of the existing Pixar personnel pages or credit pages for examples. Any other questions let me know. Thanks! --Jeff (talk) 18:29, 14 March 2009 (UTC)
Hi, take a look at this page. Thanks! --Jeff (talk) 23:36, 8 March 2009 (UTC)
Welcome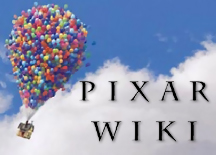 Hi, welcome to Pixar Wiki! Thanks for your contributions.
Here's a wiki tip for you -- you can sign your name on discussion pages by typing ~~~~ which automatically adds your signature and the date.
Check out the FAQ for more tricks.
Please leave a message on my talk page if I can help with anything! --Jeff (talk) 14:27, 7 March 2009 (UTC)

hello!! i read your profile..and it sounds like you have a spectacular collection! :D Hs1201 15:22, November 4, 2011 (UTC)HS1201
Community content is available under
CC-BY-SA
unless otherwise noted.