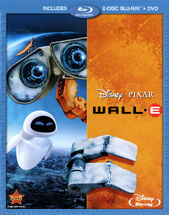 WALL•E was released on DVD and Blu-ray on November 18, 2008. The 1-disc package includes commentary with director Andrew Stanton, deleted scenes, featurettes (Animation Sound Design: Building Worlds from the Sound Up, Sneak Peek: WALL•E's Tour of the Universe), and a new BURN-E animated short. The 3-disc combo pack adds to this; additional deleted scenes, 3 featurettes (The Pixar Story by Leslie Iwerks, BnL Shorts and WALL•E's Treasures and Trinkets), a Lots of Bots storybook, additional "making of" featurettes, Bot Files and a digital copy of the film. The Blu-ray edition includes all of the 2-disc features (minus the digital copy) plus various viewing track options and interactive games. WALL•E was re-released in a 2-disc Blu-ray/DVD combo pack on July 5, 2011. The re-release includes all special features available on the previous 3-disc release.
DVD
This film has a very unique DVD case: rather that have the case be made of plastic with paper cover art inside a soft plastic pouch that opens like a book and contained within a paperboard slipcover, WALL*E's DVD case is made entirely out of paperboard and has the DVD tray slide out of the case (a special hinge inside the case prevents it from falling out).
Scene Index
Out There
Walk Home
A Day at Work
EVE Arrives
Confrontation
La Vie en Rose
Courting
WALL•E's Favorite Things
Bad Date
Time to Go
Space Travel
Docking
Welcome to the Axiom
Bridge Lobby
Captain On Deck
Define Earth
Repair Ward
Rogue Robots
Escape Pod
Cruising Speed
Spacewalk
The Lido Deck
It Only Takes a Moment
Code A113
Garbage Airlock
Eve to the Rescue
All Feet on Deck
Homecoming
Back Together
End Credits
Easter Eggs
Disc One
On the main menu, move to 'Bonus Features'. Move left then up to highlight the red BnL logo. Select this to see a short feature called 'Geek-O-Rama'.
On the main menu, move to 'Set Up'. Move right then up to highlight the circle at the top of the screen. Select this to see a title animation test Andrew Stanton created in 2004.
Disc Two
Community content is available under
CC-BY-SA
unless otherwise noted.