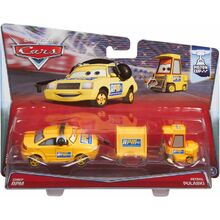 Winford Bradford Rutherford is a character in Cars.
Cars
"An Ivy League school may seem like an unlikely place to start in the racing world. But only a couple of years ago Winford Bradford Rutherford was grille-deep in physics books learning about momentum, velocity, and anything else that would give him an edge on the track. His doctor and lawyer friends at the country club thought he was crazy, but the studying paid off. Winford is now a highly respected Piston Cup racer. He uses his vast knowledge of physics to cheat the wind and out-maneuver his fellow racers, who affectionately call him, "The Professor.""[1]
Winford was the third car to get hit by Chick Hicks.
Winford races for the team "RPM".
Trivia
Winford's pit crew pitty is Petrol Pulaski.
In Disney Infinity, there is a Pace Car who has some resemblance to Winford, with a few differences like the two numbers being the opposite way around.
Gallery
References
↑ "Cars Finder" (supplementary material on Blu Ray Disc release of Cars). 2007. Blu Ray Disc. Walt Disney Home Entertainment, 2007.
Community content is available under
CC-BY-SA
unless otherwise noted.